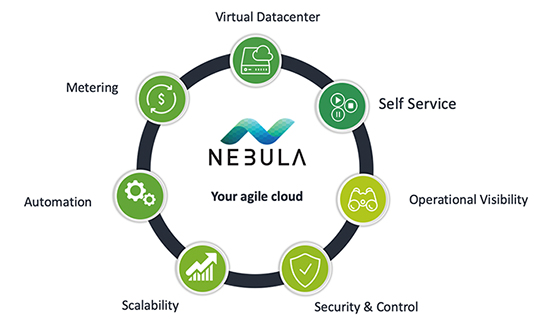 Virtual Data Centre:
A complete set of Public and Private cloud services that include Compute, Storage and Network capacity to enable separation between the consumption infrastructures services and underlying Hardware.
Self Service:
Tenant will have access to their Virtual Data Centres resources to manage and operate virtual workloads to perform:
• Start a Virtual machine (VM), Shutdown and Restart VM's
• Provisioning/De-provisioning VM's
• Adding/Removing resourcing to existing VM's
• Provisioning new virtual networks with in VDC's
• Console Access to VM's to manage and control the OS setting.
Operational Visibility and Insights:
A refreshed dashboard and single pane of glass provide a centralised cloud management view. Leverage your operations based on advanced analytics, chargeback and native integration into your VMs, application and DBs for deep visibility into enterprise environments.
Scalability:
Tenant workloads are easily scaled horizontally and vertically in terms of Adding/Removing new servers or Adding/Removing of resources to VM's and virtual network.
Security:
Nebula is a true multi-tenant, platform isolated infrastructure. It enables customers with an Integrated SDN can control a virtual firewall for micro-segmentation, NAT, Isolated Network, Load Balancers and DHCP IP allocation to virtual workloads.
Catalogue:
Multi – Tier Application can be provisioned and consumed as pre-configured virtual appliances containing VMs, Operating Systems, images and other media with the click of a button. This enables IT standardisation, simplified troubleshooting, patching and change management.
Metering:
Nebula Delivers cost transparency and accountability that help IT leaders to understand and optimise the costs of their virtual datacentre's infrastructure required to seamlessly support business services. Easy and generous subscription models include; Pay as you Go, Reservation and Allocation based prices.